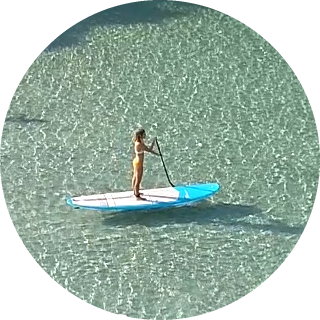 Paddling in the bay of Santa Giulia
Enjoy the turquoise waters of the island of beauty on a Stand-Up-Paddle (SUP). Paddle and glide in a relaxing or sporty way with our paddles available for hire at the club located in the centre of the Bay.
Totally respectful of the environment, the Stand Up Paddle will make you discover the Bay of Santa Giulia in another way, in all simplicity.
STABLE, MANAGEABLE AND HIGH QUALITY SUP
WHAT IS STAND UP PADDLING?
Stand up paddling, also known as paddle or SUP, is a sport practised standing up using a large surfboard and a paddle.
This new discipline is very popular! It is the case to say it… because this sport is practised while balancing on a large surfboard with a paddle to advance with the force of the wrist.
Arrived only a few years ago in Corsica, the activity starts to make emulators. This discipline allows you to move on the water in a fun and original way, while working on your balance. The best part: you can move around in the Bay with a breathtaking view of the coastline and the sea bed.
Long live the Stand Up Paddle, a new and fun way to navigate on the water. Meeting point on the beach of Santa Giulia.