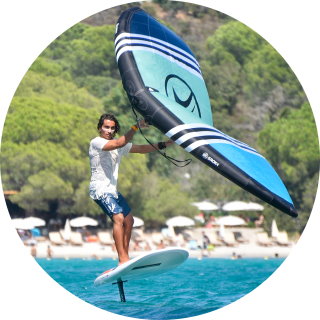 What is the Wing Foil ?
The Wing Foil is the last born of the gliding sports. It is a mix between kitesurfing and windsurfing. Contrary to the Kite, the Wing Foil is held directly in the hands without the use of a harness. The objective is to find the necessary power to ride the foil.
The advantages of the Wing foil :
Minimal space requirement
Ultra fast set up
Light and robust material.
Fast evolution
The Wing will be highly appreciated by you, former windsurfer having put his windsurfing aside. The WINGFOIL IS ACCESSIBLE TO ALL and does not require any particular physical condition.
SOME PEOPLE LIVE THEIR DREAMS AND OTHERS DREAM THEIR LIVES. COME LIVE YOUR DREAMS WITH US!
OUR WING FOIL COURSES

 

1pers

2pers

Beginner (Wing + board without foil)

1h 

75

120

Advanced (Wing + board with foil)

1h30

120