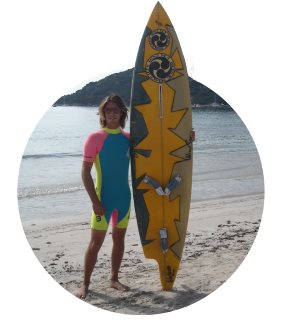 Windsurf
For more than 30 years, the Club Nautique has been helping you learn and improve your windsurfing skills. It is our passion and our speciality!
Are you wondering if Santa Giulia is a good place to learn windsurfing? The answer is YES!
Santa Giulia is an incredible spot to start and progress in windsurfing. Whether you are a complete beginner, intermediate or experienced, the spot offers many varied sailing conditions that will satisfy all levels.
All our windsurfing instructors are fully qualified. They are all multilingual, experienced and above all passionate about windsurfing and eager to share this passion with others.
Yoann, in charge of the base, has been a windsurfing instructor for more than 15 years, with a BPJEPS diploma and a federal diploma. He has taught in many schools around the world (Brazil, Martinique, Montenegro, Corsica…).
The Club's instructors, who share his passion, are all qualified and passionate like him.
They will adapt their teaching methods to your level and pace, whatever your sporting background. The most important thing for them is to transmit their passion in safety and to make you love your windsurfing course in Corsica.
OUR NEW WINDSURFING PACKS
Mini Pack : 3 x 1 hour of private lesson = 1 hour free rental
Maxi Pack : 5 x 1h OF private lesson = 3 hours free rental